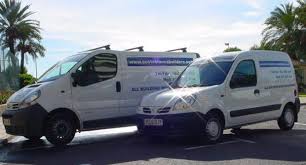 "While in Spain I was looking for some one to refurbish my 3 bedroom flat. I found an advert in the local paper and gave Costa Blanca Builders a call. Jason came up to see me and I took an immediate liking to him. I gave him the job of refurbishing the flat. The service I received was first class and Jason was very accommodating, in securing all the materials. Photos were sent to me at different stages of the job, to keep me up to date of how the work was progressing. I thank Jason, Karen and their staff forall their hard work. I will most definitely recommend them to any one needing work done in Spain and living in England. You can rely on them one hundred per cent"
"After hearing so many horror stories about what you should and shouldn't do when employing a builder in Spain, it was a relief when Costa Blanca Builders were highly recommended to us. They arranged all the necessary permission's and workmen and even acted as interpreters on occasion. Also being based in the UK it was an added bonus being able to see the progress on the internet. Fantastic job, will definitely consider using them for any future work"
"I would just like to take this opportunity to thank you for the work you completed at our property fitting the heating/air conditioning units. Your workmen were a credit to you, everyone turned up on time and they all tidied up after themselves. As discussed with Jason we will have no hesitation in using you again in the summer for our paintwork and when we find our dream property for a retreat we will contact you about any building/conversion work required"
"Just a note to thank you for a fantastic job on the persianas. The whole village will be engulfed in bracket envy - they are wonderful!"
"Owning a home in spain when you do not live there full time or speak the language fully is great – but when building work is required, presents some challenges on finding good workmen that are also able to speak the same language!. We decided to use Costa Blanca Builders to replace our patio doors / windows, we did not know Karen or the Guys, but their prompt timekeeping, quotations and professionalism impressed us. Our decision to go ahead and use Costa Blanca Builders to undertake the work was not one regretted. We left the keys with Karen, and the team completed the work while we were in England – therefore causing minimum disruption to our holidays. We were emailed photos of the work once it was complete and on inspection of the work when we returned to Spain, it was completed to the highest quality. We are planning future renovations to our property and would not hesitate to recommend Costa Blanca Builders, we will certainly be using them again!"
"I would like to thank you for the way you handled our job, it was good to get prompt contact and replies. I will certainly be in touch if we need further work done. Thanks again"
"I contacted Costa Blanca Builders through an advert they had in the Costa Blanca news which subsequently led me to their website. I had bought a house in Spain which turned out to have a leaking pool. I found them to be extremely professional. They carried out a full investigation over a period of weeks and once they had found the leak, they suggested a method of repair which was neither the most expensive or obvious i.e. they didn't try and work the job up. I was in the UK when they carried out the repair but they sent me about 4 separate emails with photos showing the various stages of the job, which is a brilliant service. Frankly I couldn't fault them."
"We have had a villa in spain for 20 years now and have never found a builder that we could trust to do work for us while we are in England until last year we found costa blanca builders, not only do they do the perfect job, they also send pictures through the email at diferent stages of the job and we can email them at any time to talk about the job, to me this is perfect"
"Right from the first contact Costa Blanca Builders have delivered what they promised and when they said they would call or visit they did. We had a job finding someone to renew our bathroom ceiling but they managed to do it and do it well, liasing with Roberto, a Spanish tradesman who specialised in escayola (ceilings). Initially we were attracted by their website but it was a pleasure to do business with them. Thank you for an efficient service and we look forward to using your services again"
"Many thanks, the work looks excellent and I will have no hesitation
recommending your company or using you again when needed"
"We have had our Finca in Muro for over 2 years and during this time Jason and the team have been working on it as our funds have allowed. It started as a very basic little house but with the sensitive and thoughtful guidance, enthusiasm and a lot of hard work from the team, we are seeing it develop into a cosy home. We have not always been easy to please and have had some very fixed ideas, some of which were not easy to achieve, but they were patient and cheerfully did as we requested. As much as we would like to, we cant always be in Spain when they are working on our finca, but with the photos and updates from Karen we feel in touch with it all. A very important aspect for us is that we can trust Costa Blanca Builders 100% with everything they do and intend having them back until all the work is complete"
"After being let down by another 'tradesman' who made a botch-up of laying my patio with balustrade (and who did only half the job), I obtained a quote from Costa Blanca Builders, which was much more favourable than that provided by another constructor. They started on the precise day they said they would, and the job was completed to a high standard within their quoted timescales. As I do not yet live in the Costa Blanca, I appreciated the regular updates (with digital photos) which kept me in touch with the project. If urgent clarification on an issue was needed, they would not hesitate to phone me. Delighted with the end product. Jason and Karen are very business-like - a rarity in Spain! - and I'd highly recommend them"
"Absolutly thrilled with the quality of work so far - so nice to talk to a professional. We are quite happy for you to use our house for any recommendations, or for anyone to contact us with regards to your work and excellent approach towards it"
"Costa Blanca Builders exceeded our expectations scoring well above 10 out of 10 - so much so that we have already booked them for another project"
"It has been brilliant to see the photos going up on the web site and we can't wait to get over there and see it in the flesh so to speak. By the look of the photos we will be very happy with the work that has been done so far, as you know there is quite a bit more to be done. We would like to arrange a meeting for when we are in Spain to discuss the further work"
"Thanks very much for the photos - the wall and gate look like they have always been there! Excellent job"
"There was excellent communication about what would happen when and we could set our clock by their reliability. We were demanding clients needing a perfectly accurate job on a complicated project"
"We have been very happy with the way things have been done so far, so we are sure that Jason and the team being on site have seen the best way to go about it. We are pleased to allow them to adapt things as they see fit in order to make the best of our house. We are really looking forward to seeing it for ourselves"
"Very happy and thank you for your advice, leaving it all in your hands was a wise choice"
"After previously traumatic experiences of building a home in Spain, Costa Blanca Builders came as a breath of fresh air. They are nice people showing initiative and sensitivity to clients' needs as well as care and concern for the environment that they are working in. The quality of work was excellent - not only did they have spirit levels, they used them - a novel experience for us in Spain"